Why Are Most Ground Rods Installed Wrong?
Most ground rods will look similar to the rod sticking up out of the soil.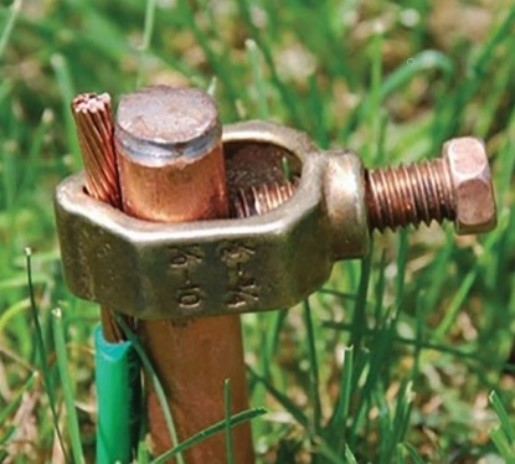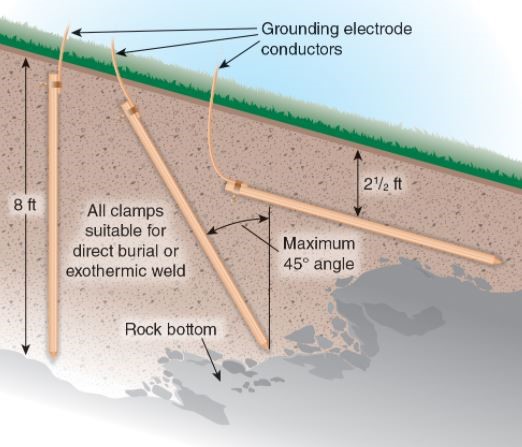 WRONG RIGHT
Almost all homes and many commercial and industrial facilities in the United States have electrodes installed improperly. For some unknown reason the Authority Having Jurisdiction (AHJ), defined in the NEC is ignoring these NEC articles. They are approving the wrong installation method and not requiring the right method. In addition, unless the state or local AHJ automatically requires two (2) ground rods; they are not requiring the contractor to verify the twenty-five (25Ω) Ohms or less requirement. If it does not meet that requirement then another ground rod must be installed.
Below are the current 2023 National Electrical Code (NEC) articles describing installation requirements for Rods, Pipes, and Plate Electrodes.
Once you read the NEC articles you will understand the proper methods of installing these electrodes.
Here are the major requirements in those NEC articles:
Shall be embedded below the permanent moisture level when possible

No one I know can actually give a true definition what this means

Shall be supplemented by an additional electrode unless the rod or electrode is twenty-five (25Ω) Ohms or less
The entire rod or electrode should be in contact with earth unless the expose section is a protected Plate electrode they must be installed a minimum thirty (30") inches below the earth
Electrode spacing a minimum six (6') feet
250.53 Grounding Electrode System Installation.
250.53(A) Rod, Pipe, and Plate Electrodes.
250.53(A)(1) Below Permanent Moisture Level.
250.53(A)(2) Supplemental Electrode Required.
250.53(A)(3) Supplemental Electrode.
250.53(A)(4) Rod and Pipe Electrodes.
250.10 Protection of Ground Clamps and Fittings.
250.53(A)(5) Plate Electrode.
250.53(B) Electrode Spacing.
---
« Back to Blog